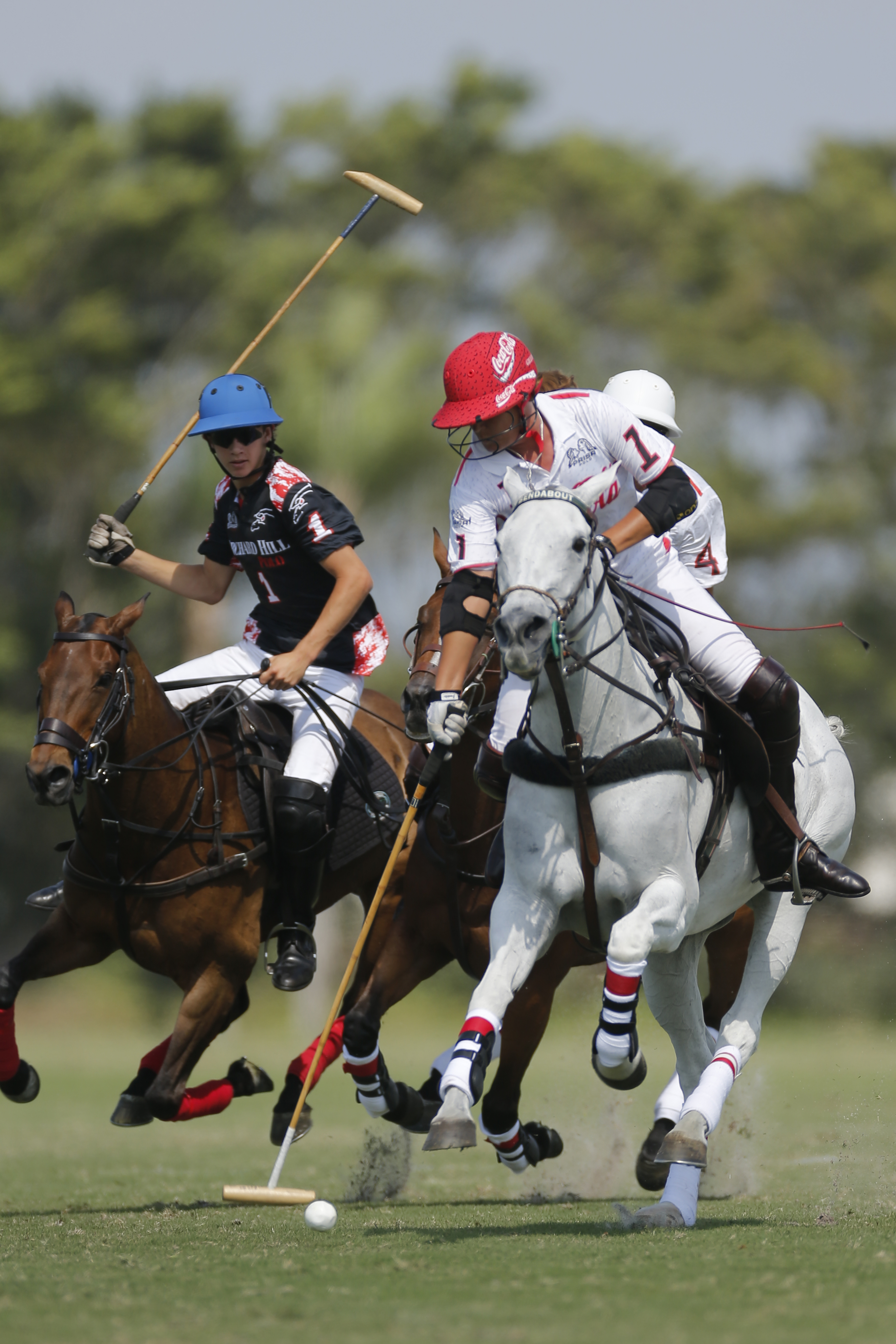 Gillian Johnston
All photos by David Lominska/Polographics.com
In two incredibly close and intense Ylvisaker Cup semifinal matches Wednesday at the International Polo Club Palm Beach (IPC), Coca-Cola defeated Orchard Hill 11-10 and Tonkawa took Postage Stamp Farm 13-12. They will face off in the final Sunday, Feb. 19.
The first semifinal match of the day saw undefeated Orchard Hill oppose a Coca-Cola team coming off a strong performance in the quarterfinals. Coca-Cola started off strong Wednesday, with Julio Arellano scoring 3 goals in the opening chukker, 2 from the penalty line and 1 from the field. Orchard Hill missed both of their shot attempts from the field, but Facundo Pieres was able to convert both of his penalty attempts to get his team back within one goal after the 1st chukker.
In a back-and-forth second chukker with only one combined foul and no penalty shots, Coca-Cola generated more scoring chances, putting 4 shots at goal, with Wesley Finalyson and Julian de Lusarreta each putting one shot through the goal. Lucas Criado made the only shot attempt for Orchard Hill.
Both teams were successful in keeping each other off the penalty line in the first half—which was important with Julio Arellano and Facundo Pieres shooting 89% and 76% from the penalty line respectively, coming into the game. Both teams scored two goals from the field in the third chukker, with Arellano converting one penalty attempt to help Coca-Cola take an 8-5 lead into halftime.
Coca-Cola remained strong in open play in the second half, beginning with them winning throw-ins. That was largely a result of de Lusarreta's 12 throw-in wins on the game, more than the entire Orchard Hill team. However, the extra possessions were not always taken advantage of. Coca-Cola got into a bit of foul trouble, putting Pieres on the penalty line 3 times in the fourth chukker, but Pieres was only able to convert 1 of the 3 chances.
Coca-Cola went on to foul 12 times in the second half, but Orchard Hill was only able to convert 2 of 6 penalty attempts. In the sixth chukker, a collision between Pieres and Arellano resulted in a substitution for Pieres in the form of Polito Pieres and 2 yellow cards for Arellano, forcing him to sit out two minutes. Polito Pieres came into the game with Orchard Hill trailing by 4 goals with only 4:07 remaining and scored two goals, but there wasn't enough time as Coca-Cola held on for the 11-10 victory.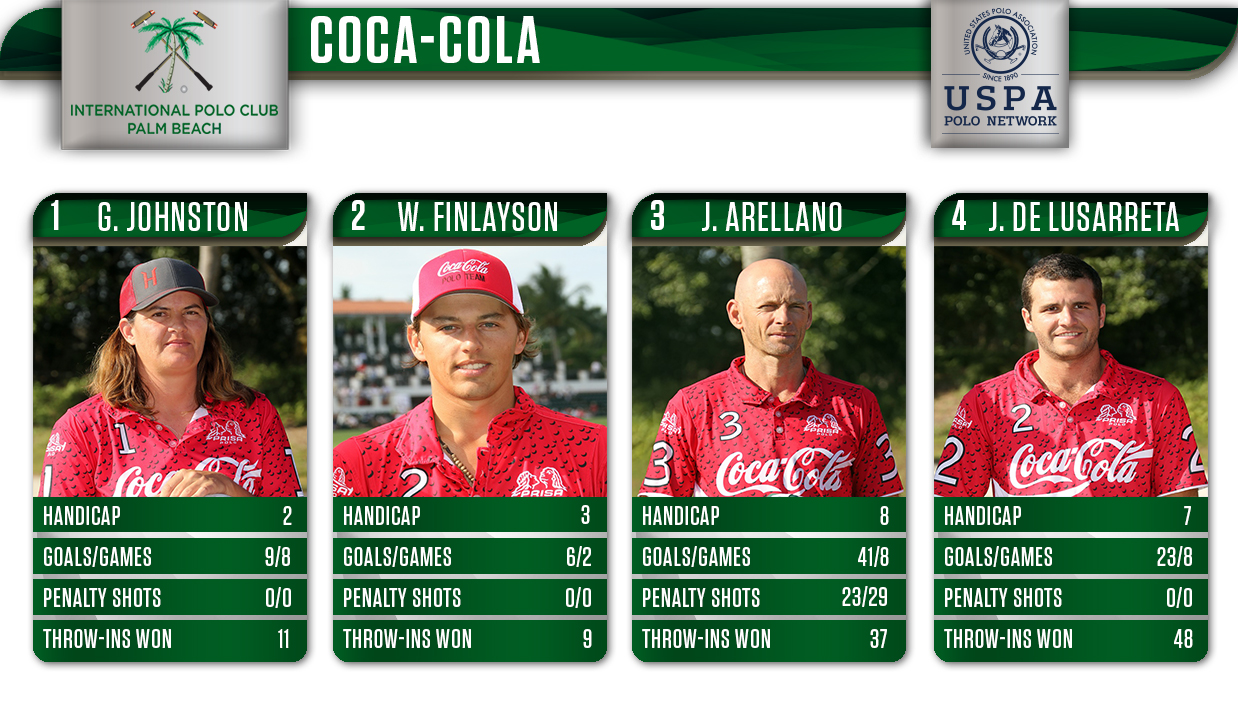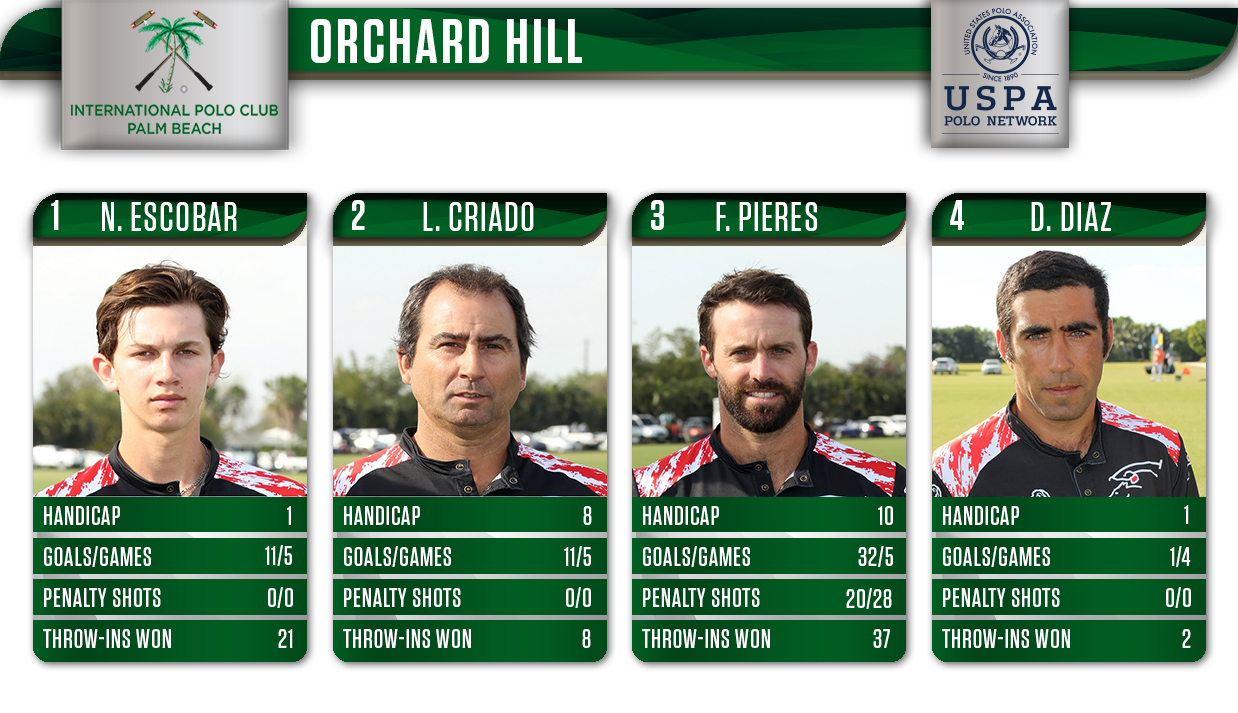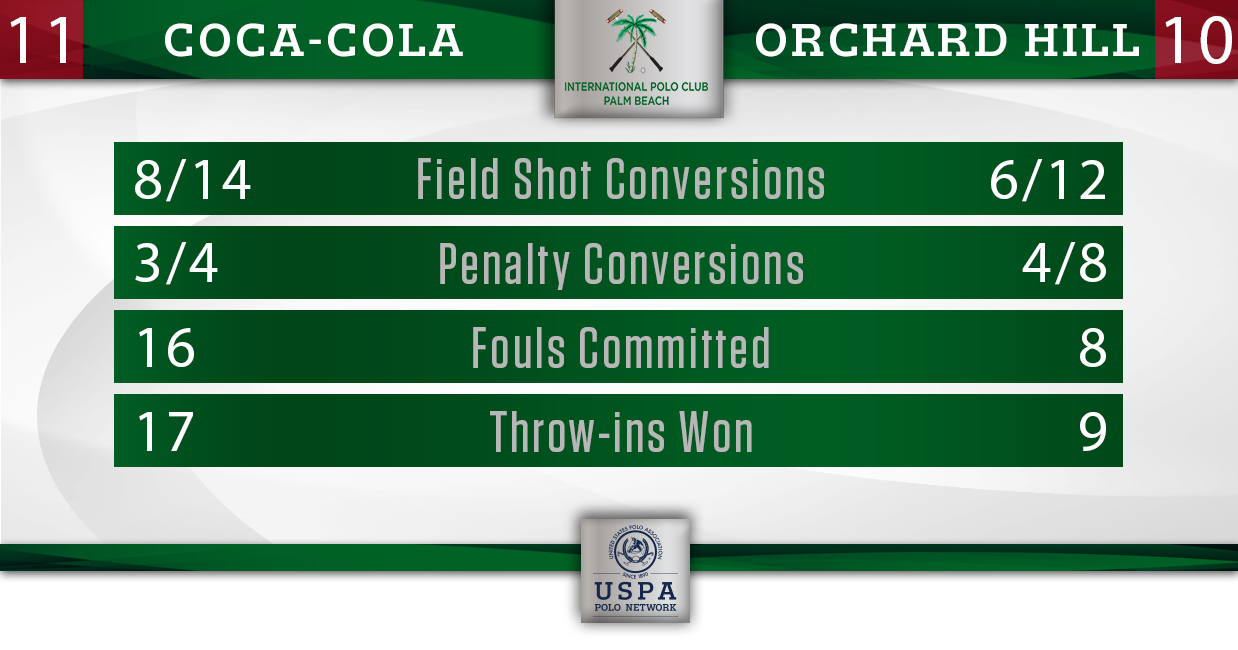 Tonkawa Takes Postage Stamp 13-12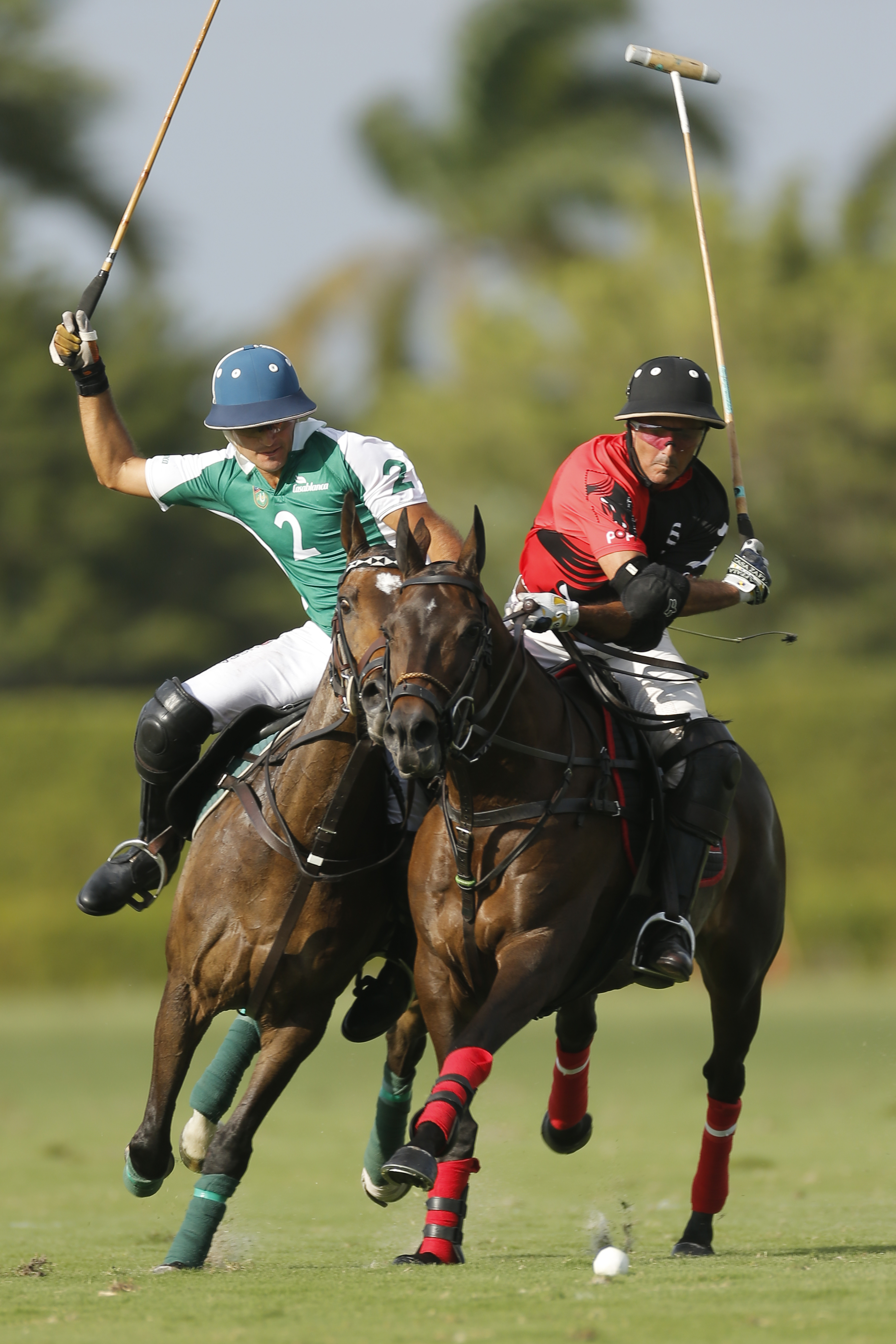 Costi Caset and Mariano Aguerre
Tonkawa faced off against a Postage Stamp Farm team that hadn't played together. Postage Stamp had three substitutions, with Timmy Dutta in place of Annabelle Gundlach and Juan Martin Zubia in place of Kris Kampsen. Without the second-leading scorer in the tournament (Kampsen), Postage Stamp was in a tough spot. Tonkawa started strong, with Costi Caset and Facundo Obregon scoring from the field and Sapo Caset adding one from the penalty line. Postage Stamp Farm began to find their footing with Aguerre finding Dutta on a pass for Dutta's first goal of the season. Aguerre added a goal to get the score within one goal.
After only shooting 50% from the penalty line in the Ylvisaker Cup so far, Sapo Caset had a very strong day from the penalty line, converting all 3 attempts in the first half. Postage Stamp Farm won 12 of 16 throw-ins in the first half to gain possession more often but committed 9 fouls to Tonkawa's 2 in the first half. That never allowed Postage Stamp to get momentum going on offense. Tonkawa took a 7-6 lead into the half in what was sure to be a very close game throughout.
Sapo Caset continued his strong penalty shooting, converting 2 more penalties, helping Tonkawa extend their lead to two goals after the fourth chukker. Five fouls from Tonkawa in the fifth resulted in 3 penalty goals for Postage Stamp Farm from Aguerre and Juan Martin Zubia, who ended up scoring 4 goals in the chukker. After trailing all game, Postage Stamp took a one-goal lead into the final chukker. Ultimately foul trouble caught up with Postage Stamp as Caset converted 3 of 4 penalty attempts, finishing 8-of-9 from the penalty line on the day and helping Tonkawa win a close game 13-12 despite Postage Stamp winning 23 of 32 throw-ins.
Tonkawa advances to the Ylvisaker Cup final to face off against Coca-Cola on Sunday, Feb. 19 at 3 p.m. at IPC.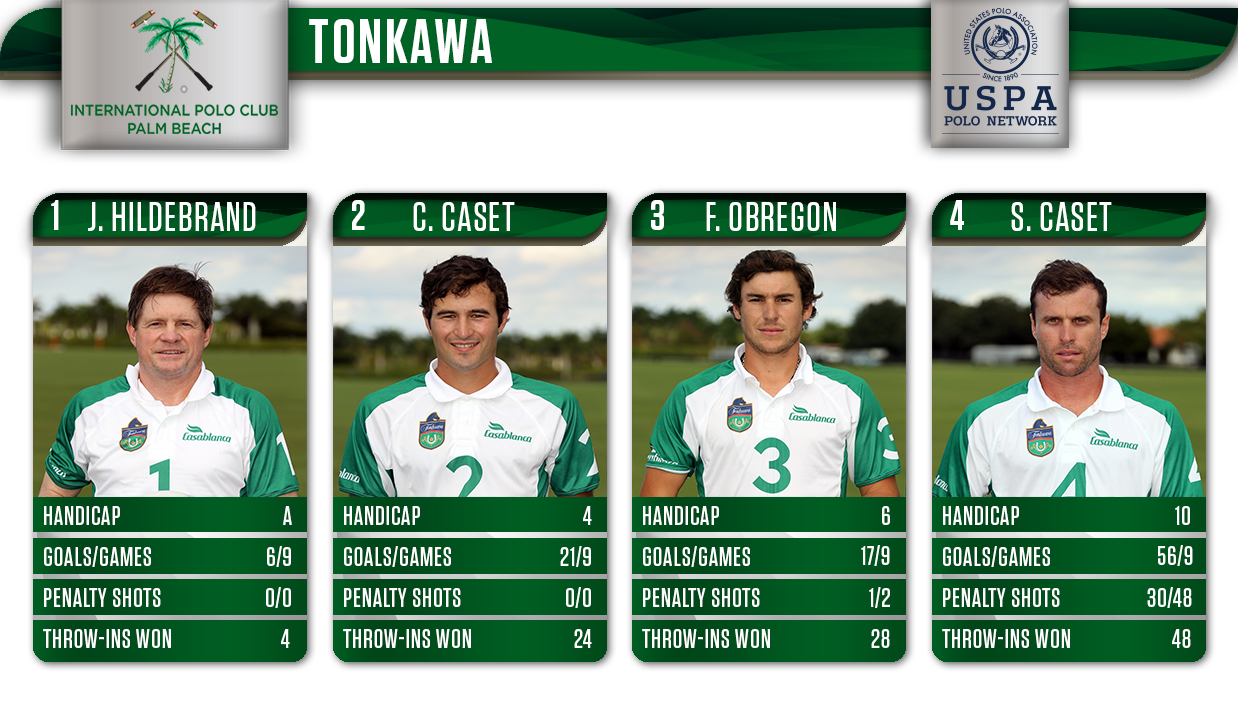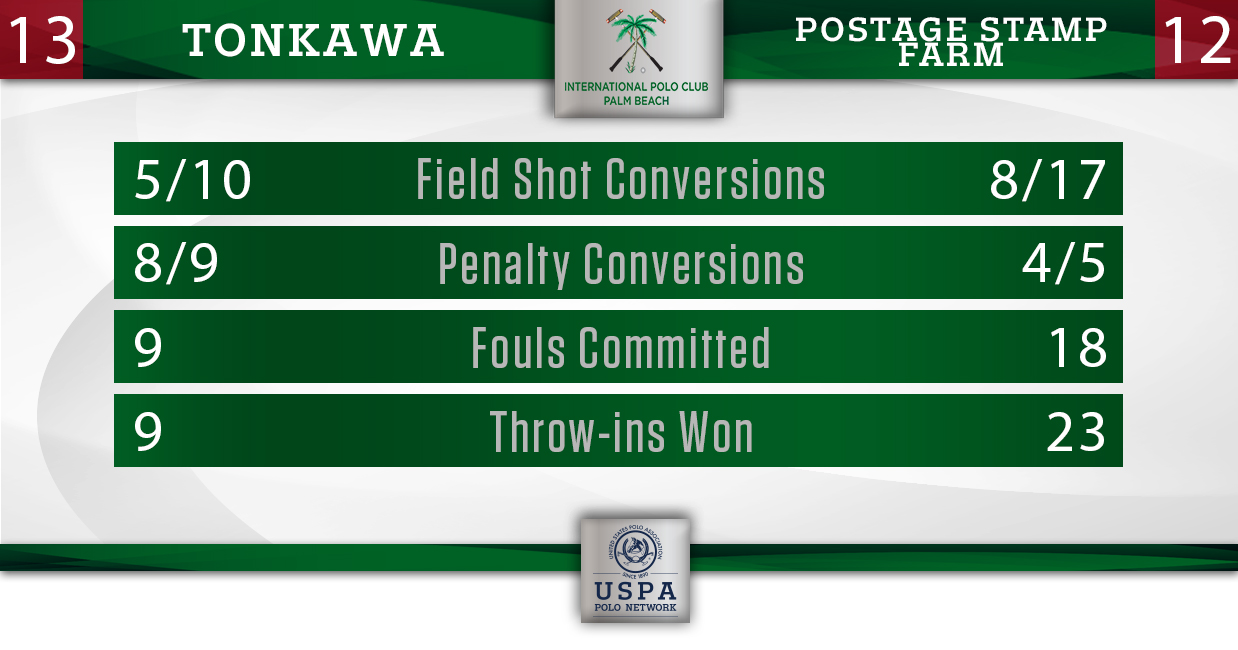 All games in the 2017 Ylvisaker Cup are being live streamed on the USPA Polo Network: uspolo.org.
Game report, stats and graphics provided by International Polo Club Palm Beach.
Save
Save
Save