Wellington, Fla. – Feb. 20, 2017 – The final of the 2017 Ylvisaker Cup was a sit-on-the-edge-of-your-seat thriller from the first play to the last, with Julio Arellano bringing it home for Coca-Cola in a 9-8 overtime win over Tonakawa. Both teams had won their semi-final matchups against undefeated opponents in the 14-team Ylvisaker Cup.
The Feb. 19 final on Engel & Völkers field at the International Polo Club Palm Beach was a rugged contest. The game got off to a very quick start with the first whistle not sounding until 5 minutes into the game. An extremely clean, fast-paced match saw both teams score one goal from the field in the first chukker. Sapo Caset opened the scoring for Tonkawa, and Wesley Finlayson finished off a Gillian Johnston run to tie the game at 1.
The second chukker heated up, resulting in a yellow flag for Coca-Cola and a penalty 2 conversion for Sapo Caset to give Tonkawa the lead. On the next throw-in Caset hit a backshot from approximately 50 yards into his own side of half. The ball found Facundo Obregon, who made a long run downfield, catching Finlayson on the foul right in front of goal, resulting in a penalty 1 goal for Obregon on a 2-goal lead for Tonkawa. Coca-Cola wasn't going to let Tonkawa stretch the lead any further. Sapo Caset drove downfield, but Arellano stole the ball and ran it 180 yards through the goal to get back within one goal as that play ended the second chukker.
Tonkawa controlled play in the third chukker, with Jeff Hildebrand shooting at goal four times. Caset converted a penalty 3 chance to give Tonkawa a 2-goal edge once again. They stretched the lead even further when Caset picked up a pass from Obregon inside his own half and finished off the drive with a goal to give Tonkawa a 5-2 lead.
Coca-Cola answered with their first penalty attempt of the day, which was a converted penalty 2 by Arellano, but the pressure from Tonkawa was giving them problems. Costi Caset stole the ball from a knock-in and made a shot from 40 yards out to give Tonkawa the 6-3 lead going into halftime.
Facundo Obregon, Wes Finlayson, Costi Caset. Photo by David Lominska/IPC.
Coca-Cola came out firing in the fourth as Arellano converted a penalty 2. On its heels came back-to-back goals by Julian de Lusarreta and Finlayson as Coca-Cola quickly tied the game back up at 6. Another goal from the field by de Lusarreta at the end of the fourth chukker gave Coca-Cola their first lead of the game (7-6).
Sapo Caset finally stopped the Coca-Cola run of 4 consecutive goals. He won a throw-in 60 yards out from goal and ran it in for his fifth goal of the day. Neither team produced any penalty chances in the fifth chukker, and Coca-Cola missed all 3 shot opportunities as the game remained tied at 7 heading into the sixth.
A foul by Coca-Cola in front of their goal resulted in a penalty 2 chance for Tonkawa, but Coca-Cola won a challenge to the play. However, Tonkawa proceeded to win the throw-in, and Caset shot from almost 60 yards to put his team back up by 1. Coca-Cola was stuck playing defense as they committed four fouls in the sixth to Tonkawa's one.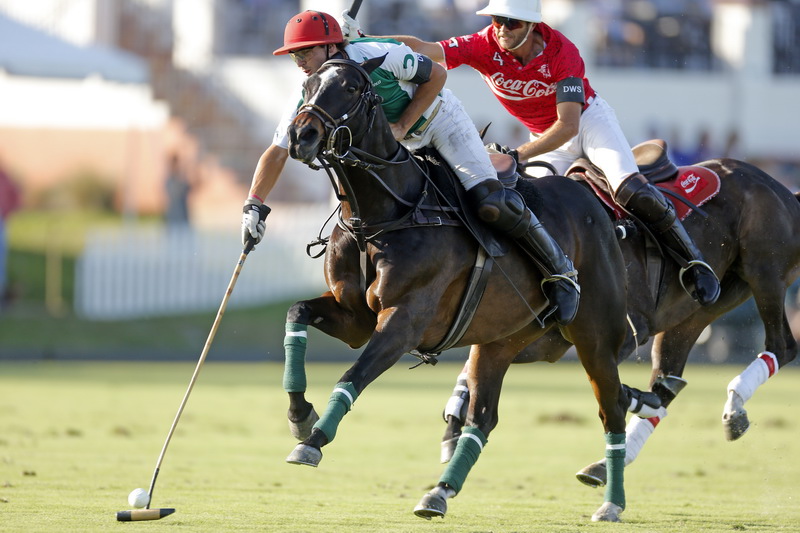 Facundo Obregon. Photo by David Lominska/IPC.
Inside the last minute Arellano burst into a ride-off on Caset and hit a backshot to Johnston, who scored on a neck shot just before the 30-second warning horn. Costi Caset won the throw-in and took off on a breakaway, but time ran out just as he reached the 40-yard line, sending the game into overtime.
Coca-Cola executed a knock-in perfectly with Arellano finding de Lusarreta on a pass that sent him on a breakaway. De Lusarreta was unable to convert the shot. After a missed opportunity from Tonkawa, Coca-Cola went back downfield, putting pressure on the Tonkawa defense. The result was a foul. Arellano converted the penalty 2 opportunity and handed the victory to Coca-Cola.
De Lusarreta was MVP, and Caset's "Annie Negra" was Best-Playing Pony.
Earlier in the day Equine Liquid Biocell won the Glenn Hart Memorial 11-10 over La Indiana. Toto Obregon was MVP, and Magoo Laprida's "Surfa" was BPP. In the George Haas Cup, Mt. Brilliant defeated Goose Creek 11-10. Bo Goodman was MVP, and Mariano Gonzalez's "Lusiano took BPP honors.
Save
Save
Save