Wellington, Fla. – March 8, 2017 – The Iglehart Cup Semifinals on Wednesday, March 8, featured a doubleheader at the International Polo Club Palm Beach in Wellington, Florida. Equine Liquid Biocell defeated Mt. Brilliant 10-8 and La Indiana bested Tonkawa 11-8.
Mt. Brilliant Suffers Disappointing Loss to Equine Liquid Biocell 10-8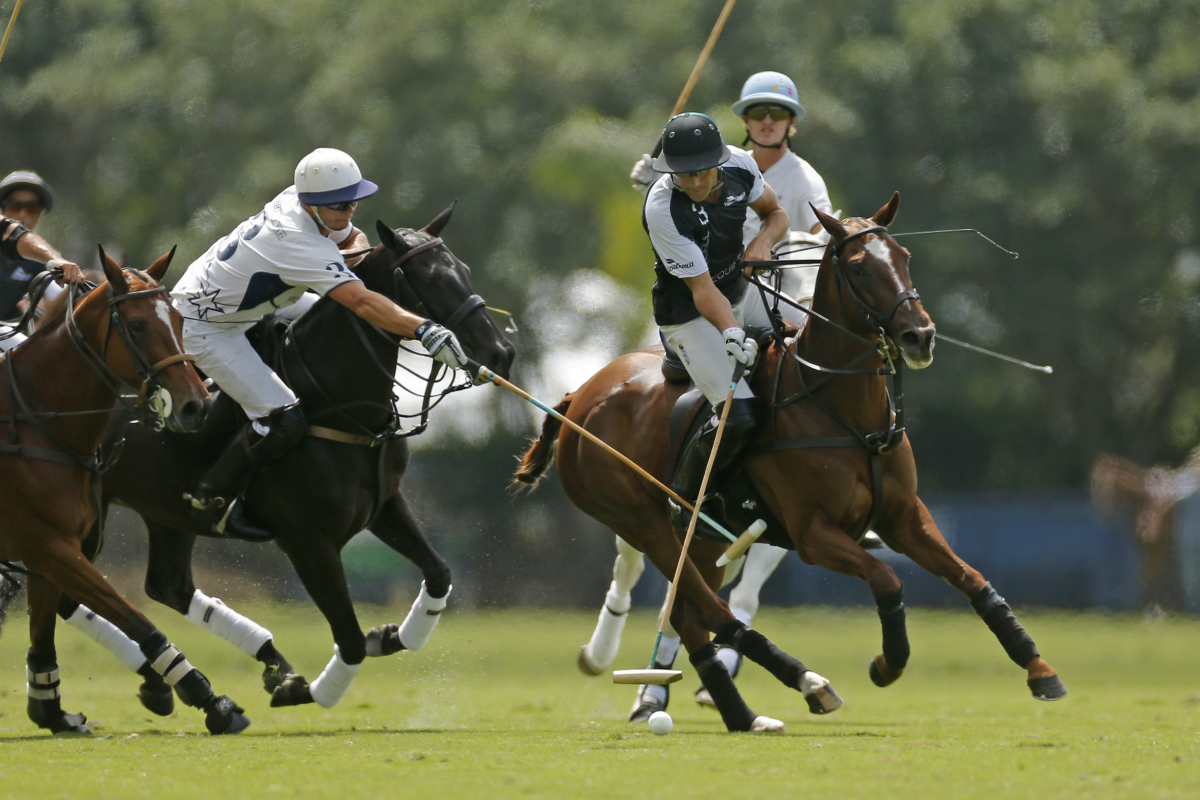 Mt. Brilliant's Santiago Chavanne reaches for the hook on 10-goaler
Hilario Ulloa of Equine Liquid Biocell.
Undefeated teams Mt. Brilliant and Equine Liquid Biocell (ELB) met in the first semifinal of the day. Mt. Brilliant came out swinging in the first chukker with three consecutive goals from Jason Crowder, including two field goals and a penalty conversion. Agustin Obregon countered Mt. Brilliant's early lead with back-to-back field goals for ELB to bring them within one 3-2. Hilario Ulloa scored the equalizing goal at the beginning of the second opening the flood gates for ELB who outscored Mt. Brilliant 4-1 to capture a two-goal lead. A jaw-dropping nearside neckshot goal from Ulloa before the half further widened the ELB lead to three 7-4.
Equine Liquid Biocell showcased incredible synergy in the second half, taking advantage of Mt. Brilliant's inability to convert on penalties. Consistently following each other up and hardly ever leaving a loose ball behind, they gained a four-goal lead moving into the sixth chukker 10-6. Two field goals, one from Obregon and another from Ulloa, both on assists from Jared Zenni contributed to the forward momentum.
The first half of the final chukker was markedly slower than the previous ones. On a penalty 4 in favor of Mt. Brilliant, Crowder unselfishly passed the stick to teammate Santiago Chavanne, after three disappointing penalty misses. Unfortunately, Chavanne's ball bounced low across the ground and to the left. Play once again opened up in the second half of the chukker as Mt. Brilliant valiantly fought back. Julian Daniels scored his first goal of the game to bring the score within three 10-7 with two minutes left in regulation time. ELB determined to maintain their lead however, slowed down the game winding down the clock. A final penalty 3 in favor of Mt. Brilliant gave Crowder a redeeming last goal as the thirty-second horn sounded to end the game. Remaining undefeated, Equine Liquid Biocell earned the first spot in the Iglehart Cup Final with a closing score 10-8 over Mt. Brilliant.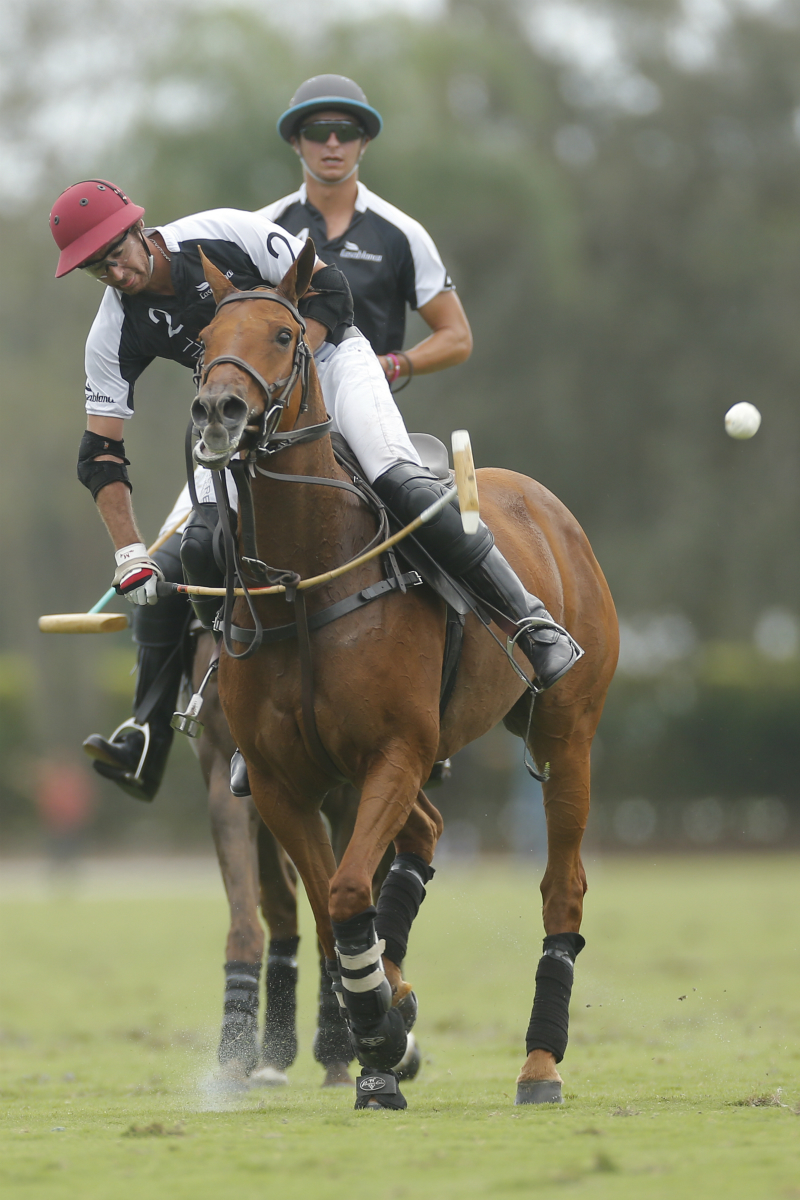 Equine Liquid Biocell's Agustin Obregon with a deep neckshot.
When asked who he would rather play in the final, Tonkawa or La Indiana, Zenni answered, "They are both really good teams, they can beat us on any day and we will have to play well to beat either of them."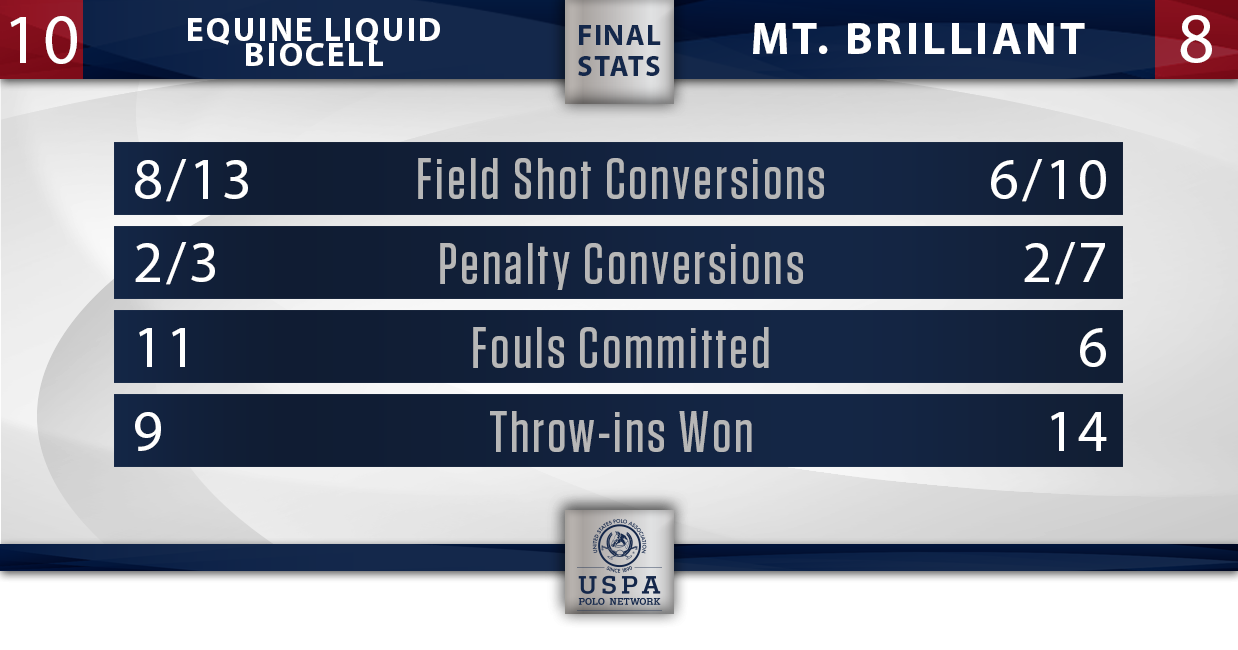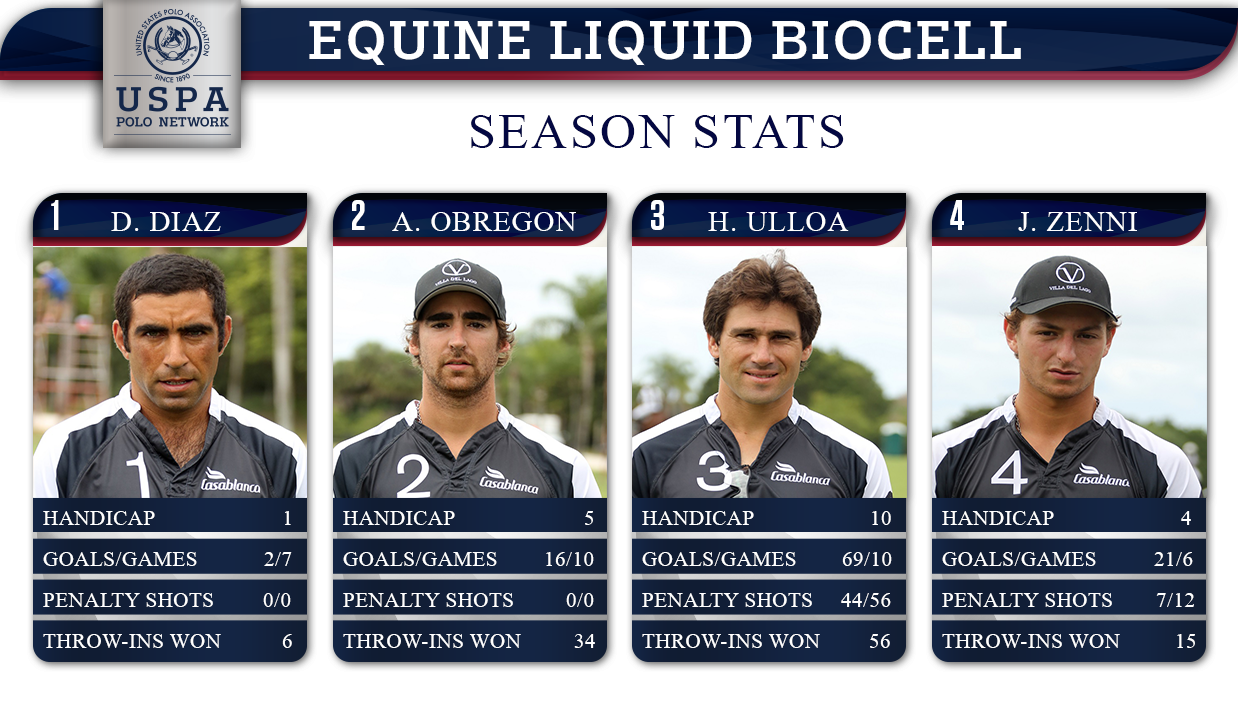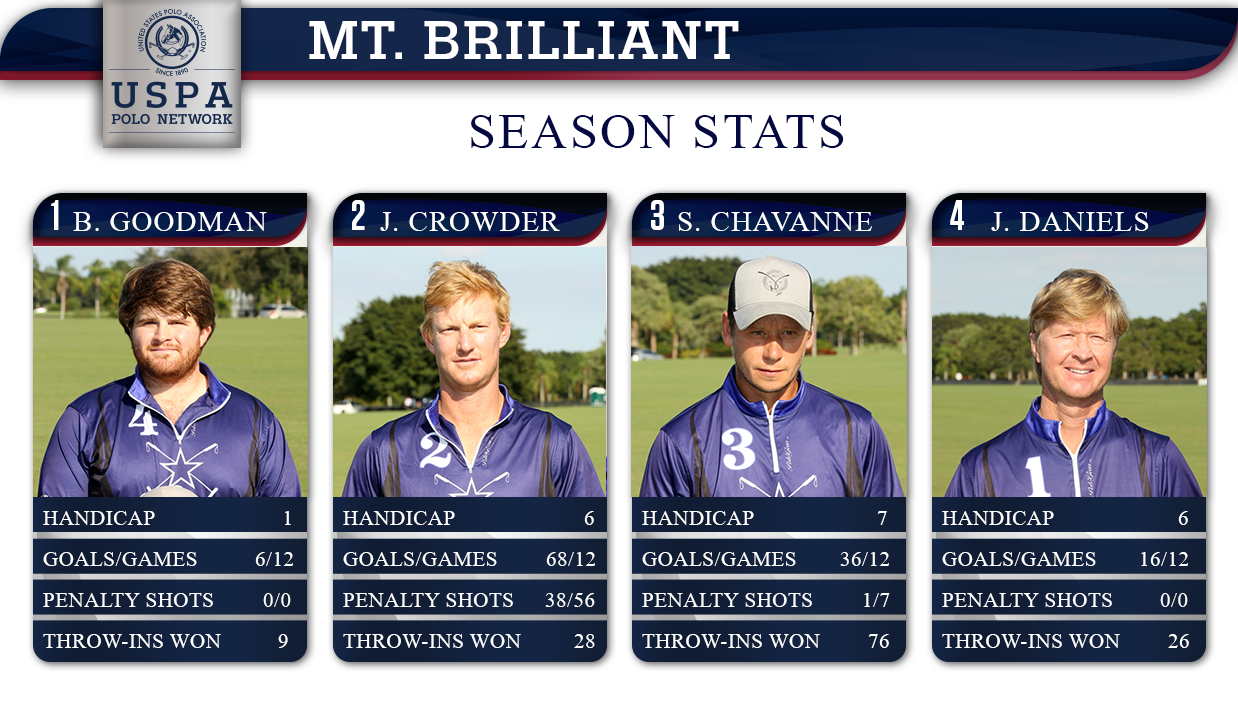 La Indiana Topples Tonkawa 11-8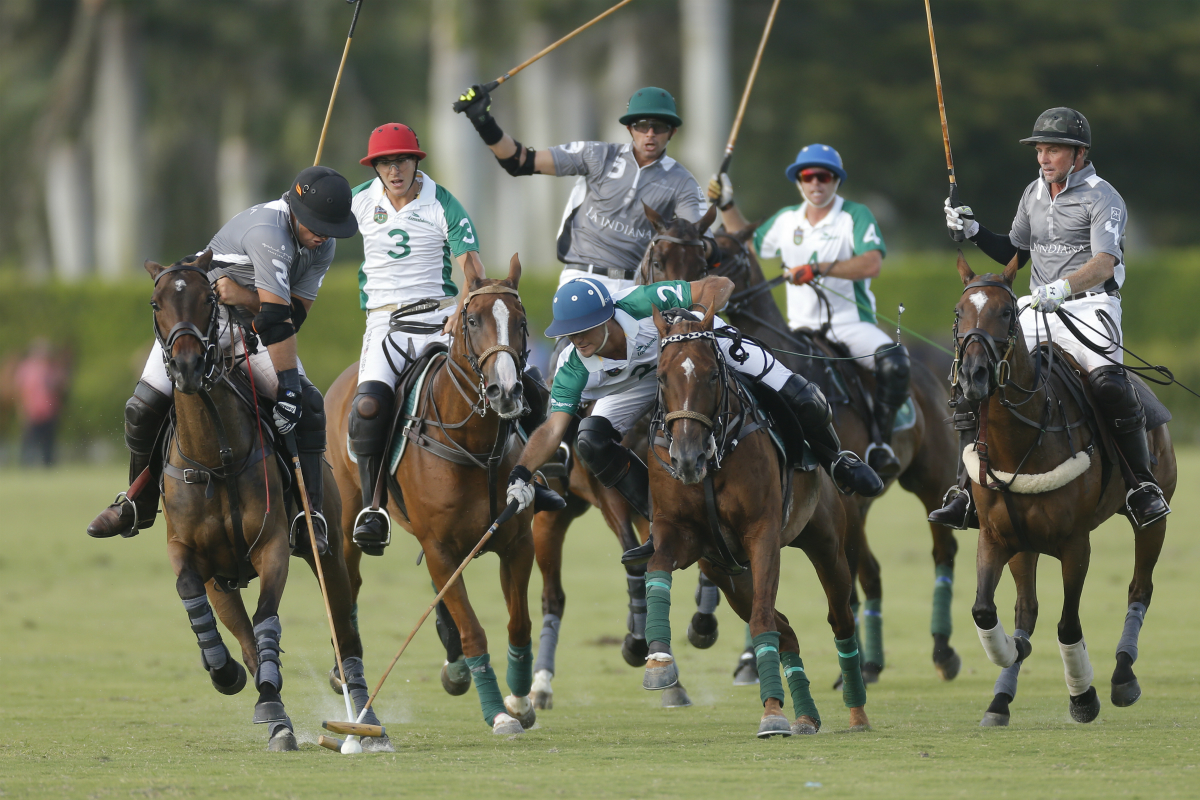 Tonkawa's Costi Caset reaches for the hook as La Indiana's
Ruki Baillieu hammers a shot downfield.
The well-oiled Tonkawa machine met a struggling La Indiana in the second Iglehart Cup Semifinal. Recently reorganized with Ruki Baillieu's reinstatement after recovering from a broken collar bone injury early in the season, La Indiana suffered two defeats in bracket play. La Indiana bested Goose Creek in a shootout to secure a semifinal position.
Until today, playing with this team felt pretty foreign to me. Today it was great to play with these guys, we came together and it worked. We won the last five chukkers, so we must have been doing something right. –Ruki Baillieu
The only 10-goaler on the field, Sapo Caset proved to be a man on a mission in the first chukker single-handedly scoring an unbelievable four goals for Tonkawa leaving La Indiana scoreless. The tables turned in the second and La Indiana regrouped scoring two unanswered goals to cut their deficit in half 4-2. The third chukker displayed excellent play and stellar goals from both sides. La Indiana began to come together, showcasing more organized and disciplined play with both Michael Bickford and Baillieu working hard to keep Jeff Hall and Mike Azzaro free. Hall scored two impressive goals; the first a pass from Azzaro out of the line-up to Baillieu to Hall, the second, a 70-yard drive to goal. Meanwhile, Tonkawa's neckshot goals, the first an easy swing score from Sapo Caset was followed by a deep neckshot to goal from Facundo Obregon to maintain the gap 6-4.
La Indiana finally began to chip away at the Tonkawa lead in the fourth with two goals from Hall. Baillieu followed up with another in the fifth to equalize the score, but Sapo Caset immediately countered to take back the lead 8-7. A line-drive penalty 4 from Azzaro that whizzed past player's heads and through the goal kept La Indiana in the game. Hall with a standout game performance scored with two minutes left in the chukker to put La Indiana in the lead for the first time. Sapo Caset once again prepared to tie the score, however uncharacteristically missed the integral penalty conversion. Tonkawa who had dominated the majority of the game trailed by one entering the final chukker 9-8.
They started making mistakes, and we capitalized on them. They capitalized on ours the first chukker and they got us 4-0, but then we beat them 11-4 in five chukkers. –Mike Azzaro
Off the penalty line Azzaro put another goal on the board for La Indiana two minutes into the sixth to set a two-goal buffer on their lead 10-8. An unstoppable La Indiana clinched another goal with a little under three minutes, this time by team owner Bickford. Tonkawa scrambled to put the ball through the uprights but could not catch a break. Sapo Caset crushed a 120-yard penalty 5 spot hit which nailed the right post and bounced back onto the field. Costi Caset then tried to tap it in but it was cleared by a determined Michael Bickford. La Indiana garnered a spot in the Iglehart Cup Final with a final score 11-8 over Tonkawa.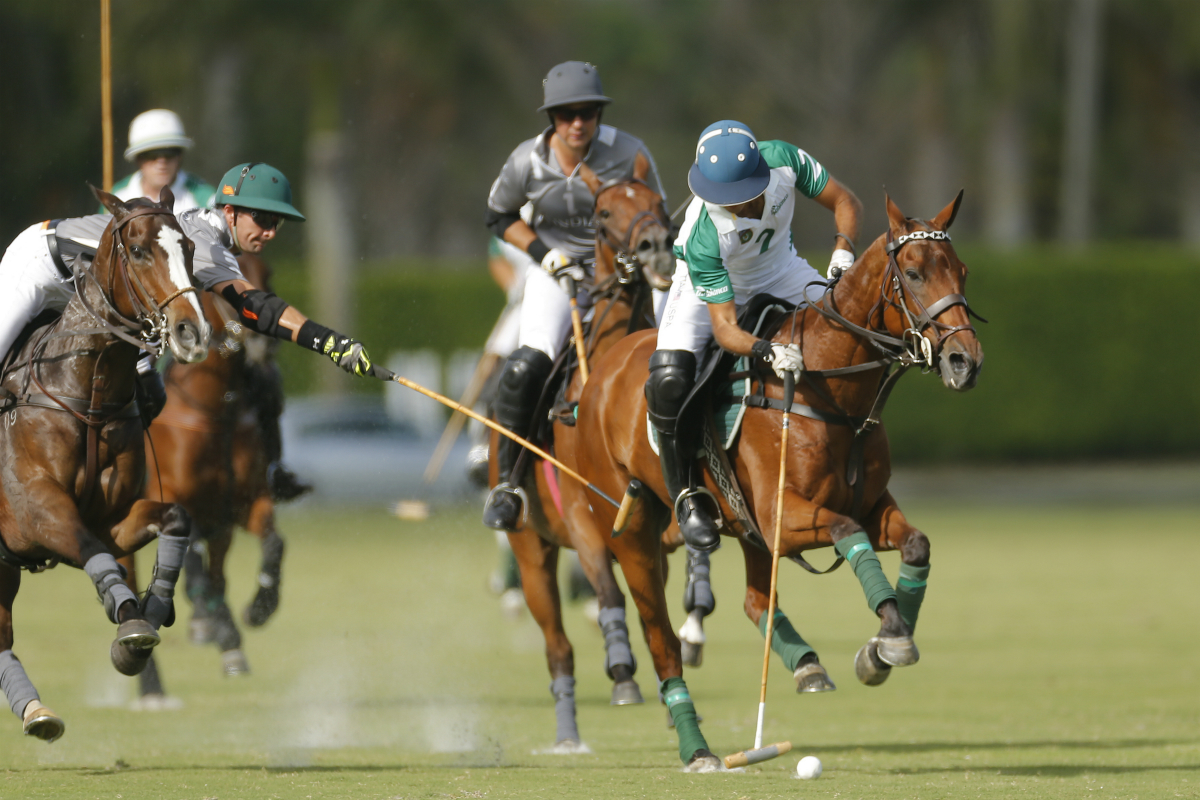 La Indiana's Jeff Hall leans out for the hook on Tonkawa's Costi Caset on a breakaway.
When asked about the final showdown, Baillieu answered, "As far as playing Equine Liquid Biocell in the Final, we will have to go back to the drawing board. We are celebrating today, and we will start strategizing tomorrow."
The Iglehart Cup Final between Equine Liquid Biocell and La Indiana will be played Sunday, February 12 at 3:00pm ET at the International Polo Club Palm Beach. The USPA Polo Network will livestream the Iglehart Cup Final.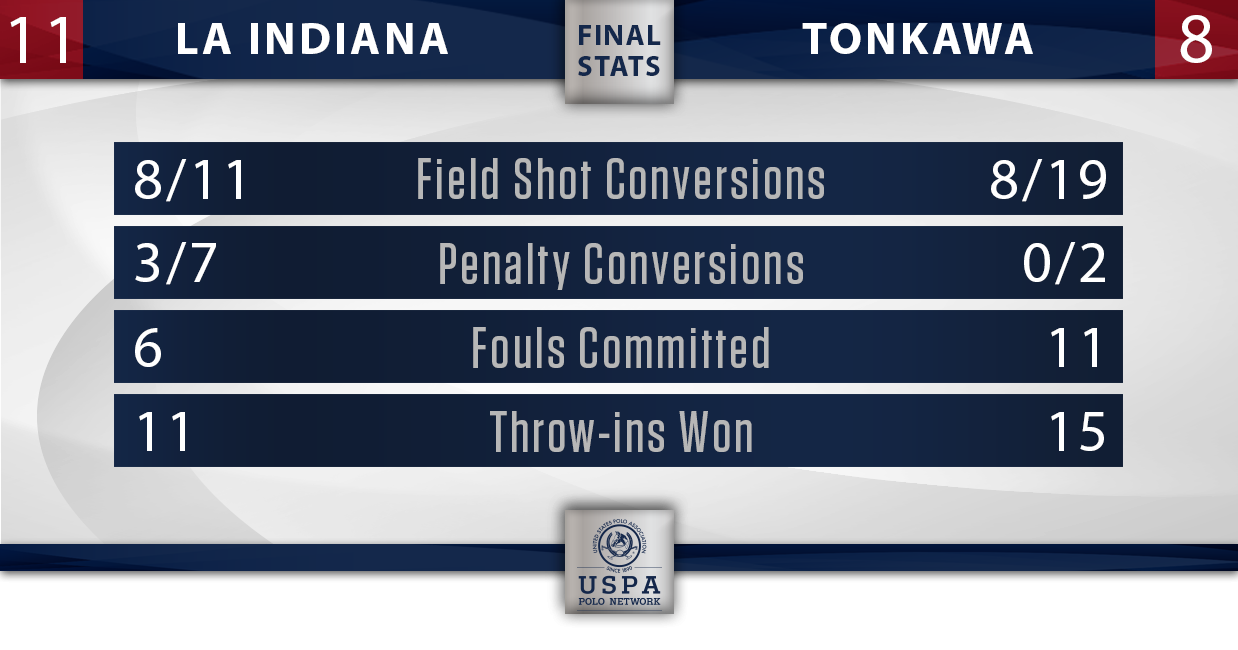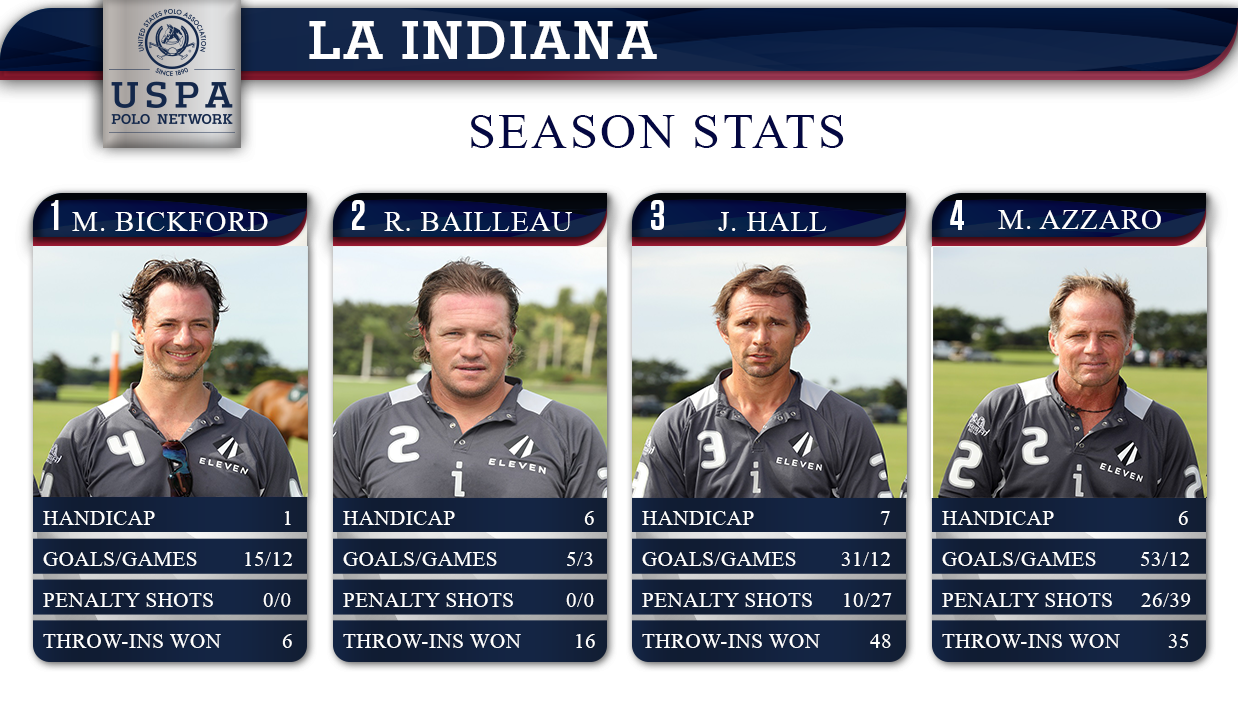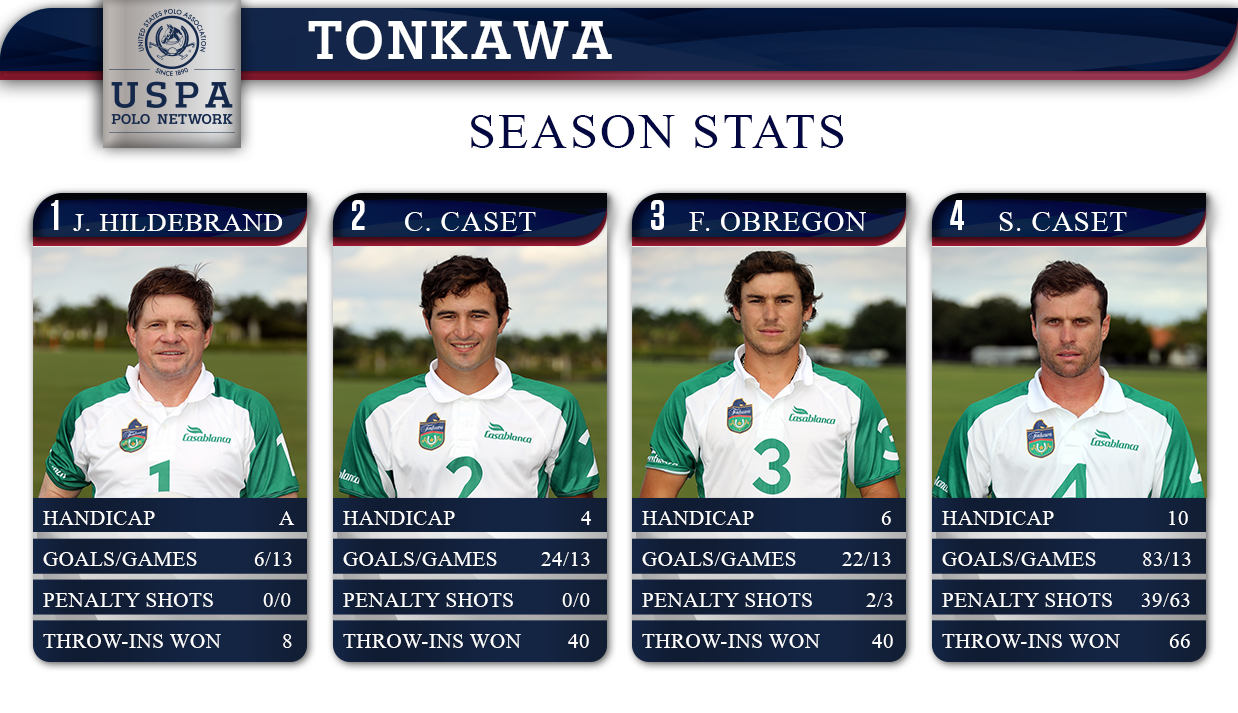 All photos courtesy of (c) David Lominska/International Polo Club
Save
Save
Save
Save
Save
Save