Wellington, Fla. – Jan. 16 2017 – In a continuation of their scheduled game that was postponed due to rain, this was a pivotal game to decide which teams would enter the quarterfinals of the Joe Barry Memorial. Picking up where they left off at 1-1 in the first chukker, it was a close game as Mt. Brilliant added a goal to take a 2-1 lead into the second chukker. Villa del Lago Modere tied the game back up after two goals by Hilario Ulloa, but Mt. Brilliant used the third chukker to leave their opponents behind. Very strong defense led to Villa del Lago not recording a shot on goal. Two goals from Jason Crowder and one from Bo Goodman, who had an exceptional game pushing his Mt. Brilliant team forward, gave Mt. Brilliant a 3-goal lead at halftime.
 Needing to get back in the game, a foul-riddled fourth chukker for Villa del Lago never allowed them to get the momentum they needed. However, Jason Crowder struggled from the penalty line, only converting 2 of 6 penalties on the day, which allowed Villa del Lago to still stay within reach. The combination of Julian Daniels playing back and allowing Santiago Chavanne and Crowder to keep attacking proved too much as Mt. Brilliant stretched their lead to five goals and never looked back. Mt. Brilliant finished with a 12-7 victory to book their place in the quarterfinals. Jason Crowder had 7 goals on the day for a tournament-leading 7.7 goals per game.
The tournament continues Sunday with two quarterfinal games. Mt. Brilliant faces Postage Stamp at noon, and Goose Creek takes on La Indiana in the featured match at 3 p.m.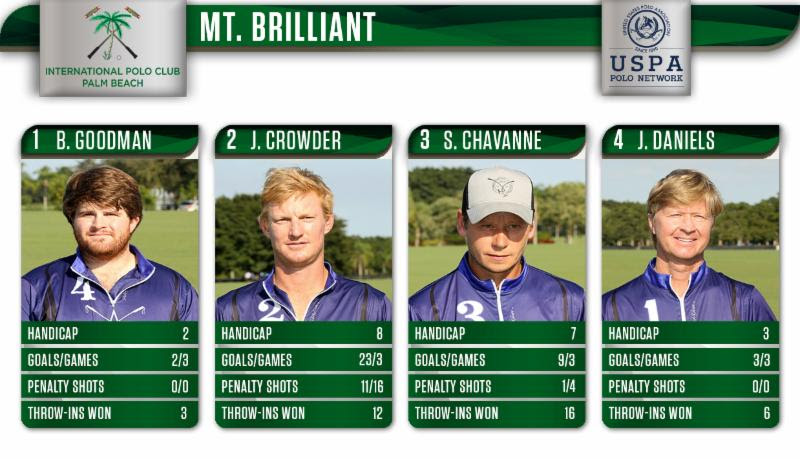 Graphics and stats by
International Polo Club/International Polo Academy
Save
Save
Save