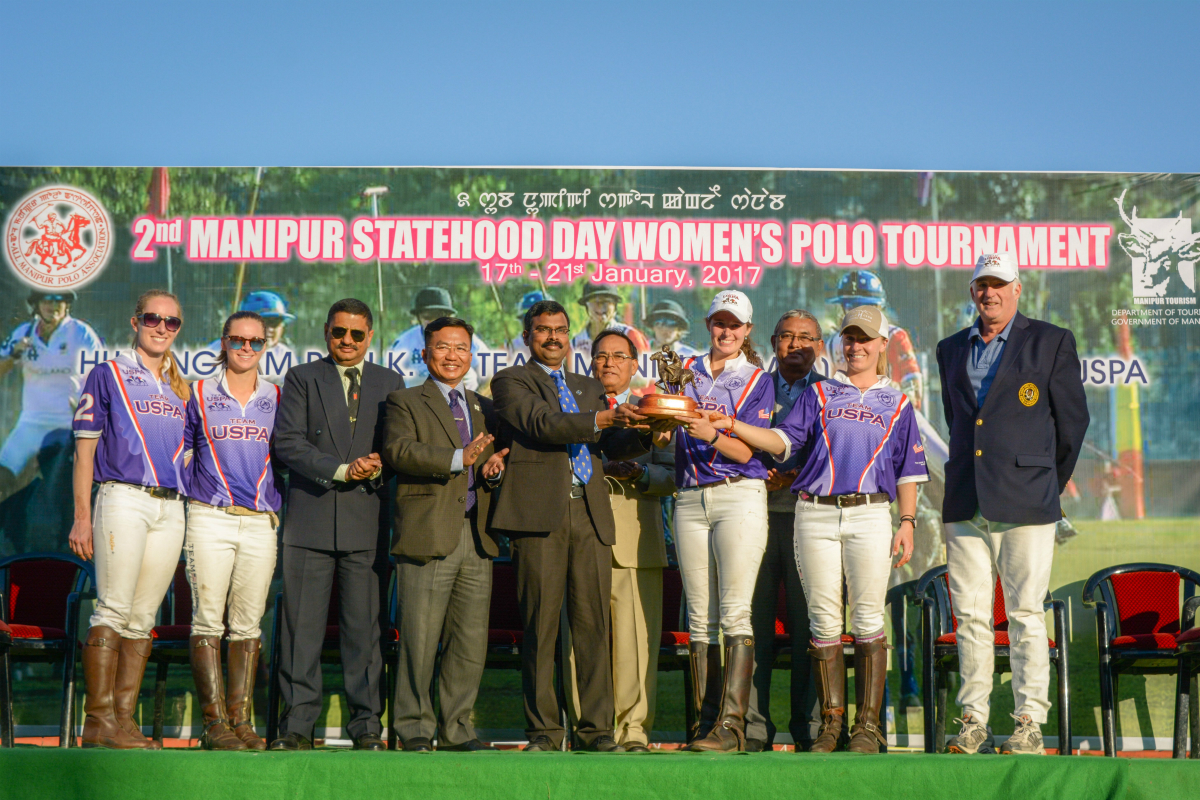 2nd Manipur Statehood Day Women's Polo Tournament Champions: Team USPA – Stephanie Massey, Audry Persano, Anna Winslow and Carly Persano pictured with Manipuri dignitaries and USPA Governor at Large Steven Armour.
The third chapter of the India International Women's Polo Tour 2017 was composed of a weeklong tournament in Imphal, Manipur, India. The 2nd Manipur Statehood Day Women's Polo Tournament presented by the All Manipur Polo Association (AMPA) and the Manipur Department of Tourism concluded on Saturday, January 21, with a solid 9-3 Team USPA triumph over Hurlingham Polo Association (HPA) to capture the trophy at the historic Mapal Kangjeibung Polo Grounds located in the heart of downtown Imphal.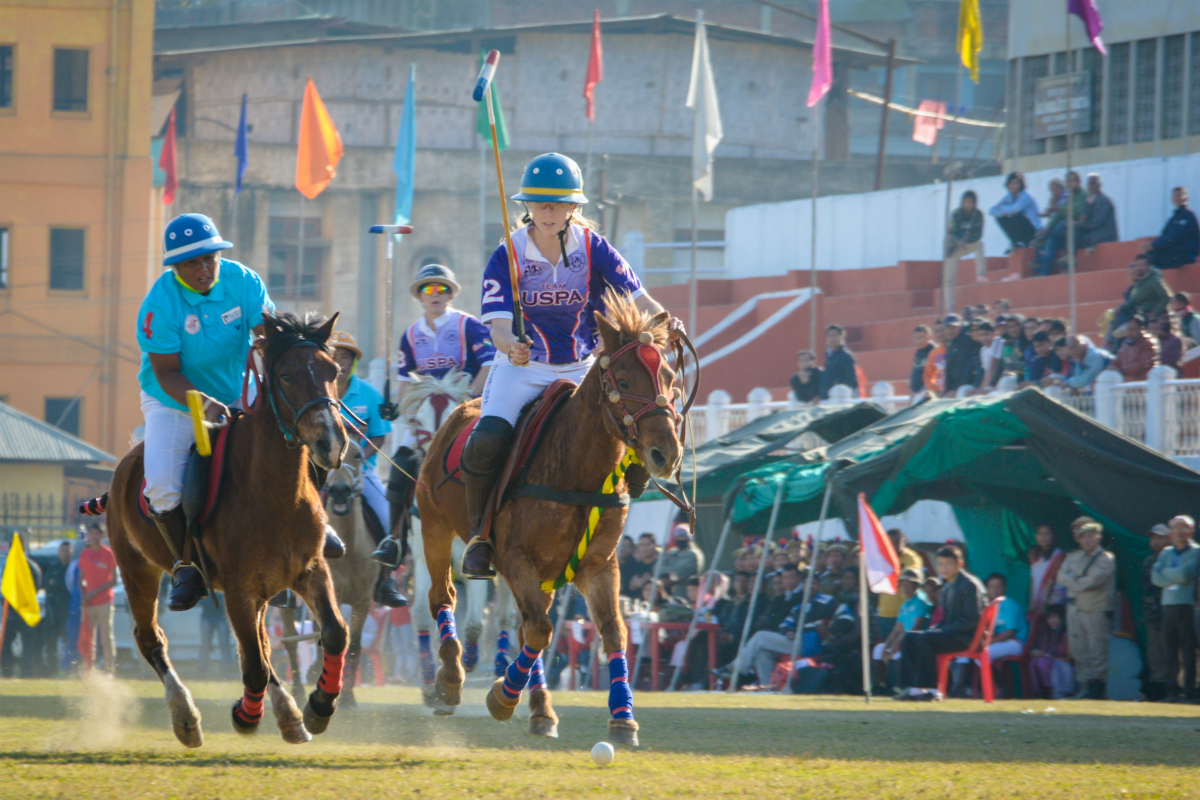 An undefeated Team USPA narrowly beat the AMPA home team 7-5 in their first game of bracket play. AMPA then went on to suffer a second defeat, losing to Hurlingham Polo Association (HPA) 8-4. In Team USPA's second game of bracket play, they garnered an easy victory over HPA 16-9 securing their spot in the final.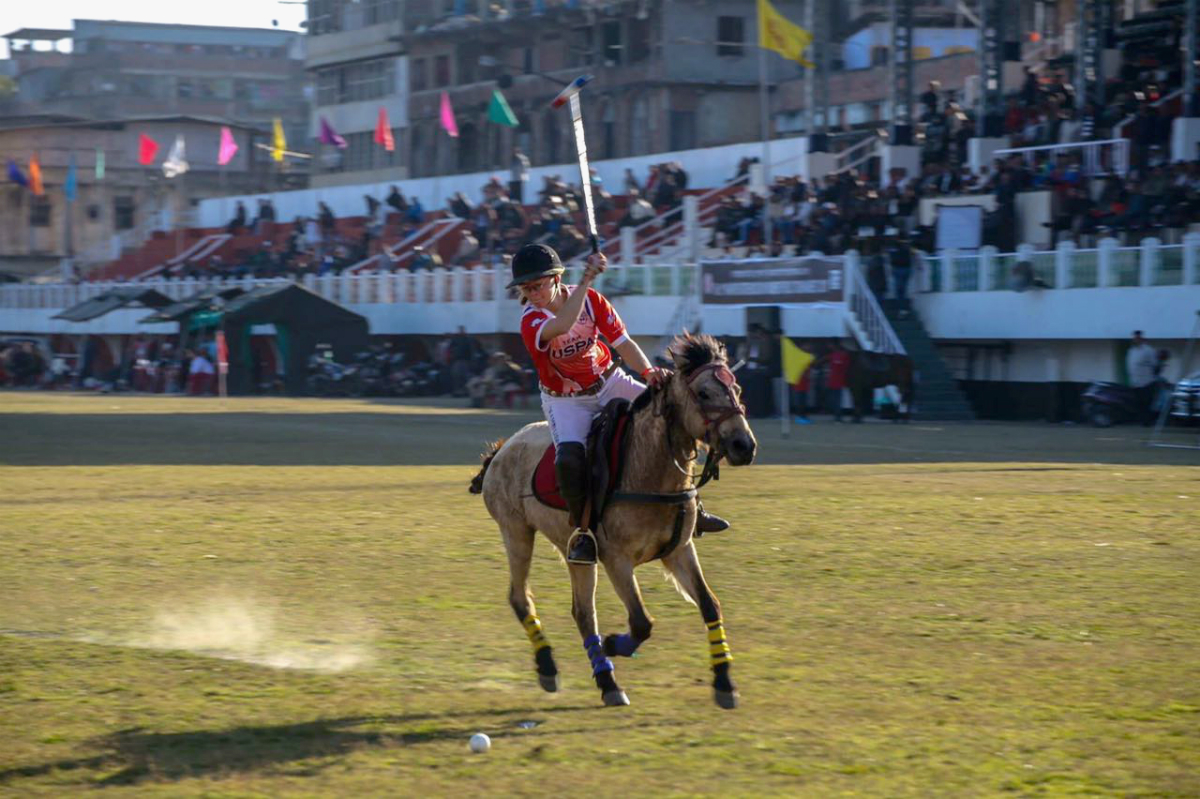 Team USPA's Audry Persano with a backshot in front of a packed crowd at the Mapal Kangeibung Polo Grounds Stadium.
In the final match, Team USPA shot into a commanding lead with five unanswered goals, four combined goals from sisters Audry and Carly Persano and a goal from Anna Winslow. Team USPA's Carly Persano scored yet another at the beginning of the second, which was answered by Sarah Hughes to put HPA on the board 6-1. HPA fought back in the third with great defensive strategy keeping Team USPA at bay. Goals by Charlotte Sweeney and Annabel McNaught-Davies closed the gap 6-3 going into the final chukker. Team USPA rallied in the fourth with three goals to cement their lead and victory against HPA with a final score 9-3.
"Usually playing a finals match would make me a bit nervous, especially since we didn't know all the ponies we would be playing, some we had never sat on previous to the final," said Team USPA member Stephanie Massey. "Despite this, I was very confident going in, and knowing that Team USPA would have a successful outcome in the final against HPA. Over the course of the trip, I was so impressed with the camaraderie displayed by my teammates and our ability to mesh so well and play together as a team," continued Massey.
The Sangai Express, Manipur's largest circulated newspaper commented on the closing ceremonies, "The USPA team were presented Rs 25,000, a trophy and a memento. Interestingly, the winners and runners up teams have donated the cash rewards for the promotion of Manipuri Ponies."
"I was extremely honored to be playing the final of the 2nd Annual Statehood Day Women's Polo Tournament at the birth site of modern polo on the Manipuri ponies, a breed on the verge of extinction," said Massey. "All of these ladies are excellent riders, players and showed not only incredible horsemanship, but we also shared compassion and a love for these sweet Manipuri ponies. Each of my teammates displayed a love for polo, the people of India and the ponies of Manipur. I hope that by playing in this tournament we can continue to raise awareness to help save this incredible breed of pony."
The Team USPA members held polo clinics for the Manipuri women's players which included, among other activities, a whiteboard strategy discussion and a polo wrapping lesson. Off the field and outside of polo competition, Team USPA visited the Shree Govindaje Temple, enjoyed a boat ride on the picturesque Loktak Lake and participated in a Manipuri cooking lesson. Team USPA members also took advantage of the opportunity to visit a local village polo club and toured the Manipuri pony breeding farm.
The India International Women's Polo Tour also known as "Polo Yatra" is India's national tour of international women's polo organized by Huntré! Equine. It expresses the USPA-led initiative to support, develop and promote women's polo in India. Huntré! Equine founder and promoter Somi Roy commented on the success of the tournament. "We are still in awe that we are organizing the first international women's polo project in the birthplace of modern polo. We find ourselves defining a much-needed space for women in India to play polo. It's historic, it's breaking boundaries and its redrawing the landscape for women's polo in India. Anchored in Manipur, where women excel in polo as in every other field, we are connecting small cultures to the international arena."
All photos courtesy of the Manipur Department of Tourism.