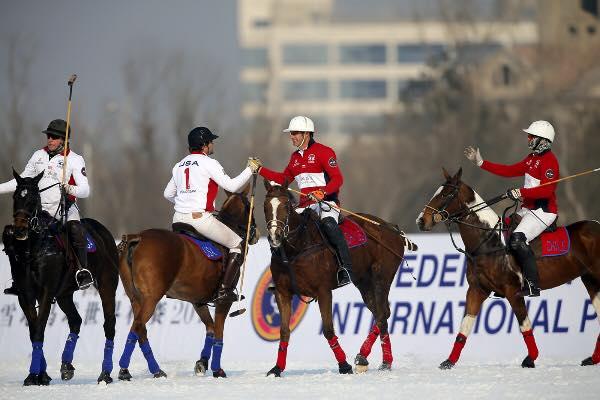 The USPA will be sending a team to China to compete in the 2017 Fortune Heights Snow Polo World Cup. 
The largest snow polo tournament in the world will be held for the sixth year running, at the Tianjin Goldin Metropolitan Polo Club in Tianjin, China, January 17-22, 2017. Six nationally selected teams from Argentina, Australia, England, Hong Kong, South Africa and the USA will be gathering from six continents at this world-class polo venue to deliver a winter polo extravaganza for all polo fans. The Metropolitan Polo Club is keen to use this platform to encourage more interest and enthusiasm in polo. Polo fans feel the charm and chivalrous spirit of the sport, while also providing an opportunity for polo players to practice their skills in authentic competitions.
For more information, please visit the Federation of International Polo (FIP) website at fippolo.com.
Team Rosters
Group A
England (16)
James Harper (6)
Jack Richardson (6)
Alastair Paterson (4)
*David Allen (4)
Argentina (16)
Santiago Cernadas (6)
Francisco Menendez (6)
Diego Braun (4)
*Dylan Rossiter (4)
Australia (16)
Jack Archibald (5)
Dirk Gould (5)
Matt Grimes (6)
*Jake Daniels (4)
Group B
USA (15)
Thomas Biddle Jr. (5)
Jesus Escapite (6)
Shane Rice (4)
*Team USPA member Patrick Uretz
Hong Kong (16)
Matias Vial (6)
Alejandro Vial (6)
John Fischer (4)
*Henry Fischer (4)
South Africa (16)
Tom de Bruin (7)
Chris MacKenzie (6)
Jan Albert Steenkamp (3)
*Gareth Evans (6)
*Alternate
Schedule
Tuesday, January 17
12:30am ET – Opening Ceremony
1:00am ET – Group Game 1
2:00am ET – Group Game 2
Wednesday, January 18
1:00am ET – Group Game 3
2:00am ET – Group Game 4
Thursday, January 19
1:00am ET – Group Game 5
2:00am ET – Group Game 6
Friday, January 20 – Rest Day
Saturday, January 21
1:00am ET – Semifinal 1
2:00am ET – Semifinal 2
Sunday, January 22
1:00am ET – Grand Final
2:00am ET – Subsidiary Final
3:30am ET – Closing Ceremony